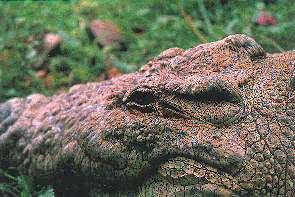 Crocodiles are found almost everywhere where there is water. This is where animals have to come to drink and unless they are very careful, they can easily find themselves being devoured by one of those huge Reptiles. The Crocodile will drift very slowly towards its prey and then shoot out of the water like a bolt of lightning, to grab a drinking animal. The prey is then dragged under water and as Crocodiles can not chew, torn to pieces and swallowed in large chunks.

Crocodiles are very dangerous. Sometimes even Tourists, that have left their car at the banks of a River are being attacked.

In some parts of Africa Crocodiles have become rare, as they are still being poached for the soft skin on their underside, which is used to make shoes, purses or handbags.