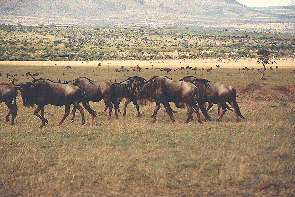 Wildebeest and Zebras live almost always together. The animals form huge Herds of sometimes several thousand individuals. Twice a year they embark on a trek, as the food supply in the area they are in begins to run low. Then you can see Wildebeest as far as the eye can see. The Herds often extend from one end of the Horizon to the other. It is reckoned that there are about three million animals on this migration.

Wildebeests seem to be pretty dumb animals. They always do what the others do. If one begins to run away, they all run away. If one begins to feed, the all begin to feed.

But Wildebeests fulfil an important role on the African Plains. The large Carnivores, like Lions, Hyenas and Leopards, rely on them for food.