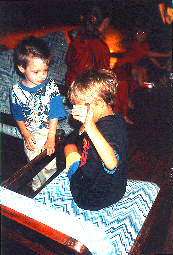 Tonight was the Snake Show. Some men came with Snakes, Chameleons and Iguanas. They also had a green Mamba, some Kenya Spaghetti, a Rock Python and some Egg-Eaters.

One of the men put the Kenya Spaghetti into his mouth and the Snake bit him in the forehead, but Kenya Spaghetti are not poisonous. I picked them up too, as I am not afraid of Snakes.

The Chameleon climbed on top of my head, holding on to my hair. That was a funny feeling and Dad filmed it with the video camera.