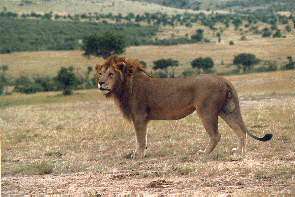 The King of the animal Kingdom can be found wherever there are Zebras and Wildebeest. The Lion lives together with his wives and young, in a group of about twenty to thirty animals.

Lions are very lazy animals, that love to sleep or doze is the shade, unless they are feeding. The hunting is mostly done by the female, but when it comes to feeding, the male is the first.

A few years ago a type of lung disease caused the death of more than two thousand Lions in the Serengeti. A large number of Scientists searched and succeeded in finding a cure for the disease. Now the worst has been overcome and the number of Lions is slowly increasing again.